Automatic Emergency Braking – Prime Time for Regulation
June 23, 2016
Opinion
Traffic safety groups are pushing NHTSA to establish standards for crash avoidance systems in trucks. (Photo: Washington State Patrol)
Written by Jacqueline Gillan, president of Advocates for Highway and Auto Safety. This is one in a series of periodic guest columns by industry thought leaders.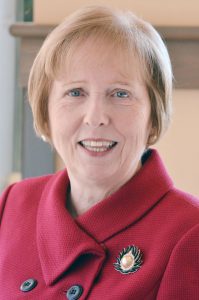 Jacqueline Gillan, president of Advocates for Highway and Auto Safety
Truck crashes are a serious public health and safety problem. Each year on average, 4,000 people are killed in large-truck crashes. That is equivalent to the death toll of a major airplane crash every other week of the year. Another 100,000 people are injured annually. The economic cost to society from commercial motor vehicle crashes exceeds $100 billion annually.
Alarmingly, we have experienced a 15 percent increase in fatalities and a staggering 50 percent rise in the number of people injured in large-truck crashes since 2009. With total tonnage of truck freight shipments predicted to increase as much as 35 percent by 2040, the urgent need to make trucks safer for all motorists has never been greater.
Fortunately, we already have solutions to significantly improve safety and prevent needless crashes. One common sense safety measure that would curb frequent and fatal truck crashes is the use of automatic emergency braking, or AEB, systems. Yet, in a column published by Trucks.com, truck driver Shelley Uvanile-Hesch argued that AEB technology needs more research before requiring it for new trucks. We respectfully disagree.
The federal agency responsible for regulating this issue, the National Highway Traffic Safety Administration, has studied rear-end crashes, which are the primary target of automatic braking technology, and estimated that the death and injury toll is significant. Large trucks are the striking vehicle in approximately 32,000 crashes resulting in 300 deaths and more than 15,000 injuries annually. The agency further estimates that with automatic braking systems tuned to react to both moving and stopped lead vehicles, nearly 60 percent of fatalities and injuries in these types of collisions could be prevented.
Automatic braking technology has been offered on large trucks since at least 2006, making the technology nearly a decade old. Manufacturers and suppliers continue to improve the technology and expand its capabilities. In fact, NHTSA recently released a report on a field study of crash avoidance systems, or CAS, finding that in over 3 million miles of data, no rear-end crashes of the type that CAS are designed to prevent occurred from subject vehicles. It also found that while improvements to the systems can be made, they generally work as intended.
Yet Ms. Uvanile-Hesch's experience does highlight an issue for concern. While the technology exists to put effective crash avoidance systems in trucks, we must make sure that it works properly. That's why we need a minimum federal safety standard to ensure that the technology currently in use is reliable and meets basic requisites of functionality. In fact, some motor carriers already are paying to install this technology on new trucks even though there are no guarantees that it will perform as advertised.
That needs to change.
My organization, Advocates for Highway and Auto Safety — together with other consumer, public health and safety groups as well as truck crash victims and survivors — has petitioned NHTSA to act. Our petition requests that the agency require the use of forward collision avoidance and mitigation braking, or F-CAM, systems on all new large trucks and buses with a minimum gross vehicle weight rating of 10,000 pounds.
F-CAM technology uses radar and sensors to first alert the driver and then to apply the brakes when a crash is imminent. F-CAM systems employ a Forward Collision Warning, or FCW, to inform a driver when his or her vehicle gets too close to another vehicle that is stopped or traveling more slowly ahead. This gives the driver a chance to brake in time. When the system determines that a crash is about to occur, a Collision Mitigation Braking, or CMB, system automatically applies the brakes to prevent the crash or reduce its severity.
NHTSA estimates that current generation F-CAM systems can prevent over 2,500 crashes each year and that future systems could prevent more than 6,300 crashes annually.
Our petition urges the establishment of performance requirements. Other critical safety systems in cars and trucks must meet minimum federal standards, including brakes, seat belts, air bags, tires, headlamps and electronic stability control. In the absence of a federal standard, each manufacturer and supplier can design its system to function differently and, in some cases, ineffectively. All drivers should be afforded the assurance that the automatic braking technology will perform at the most critical moments in the driving task. These standards would also include requirements for durability and other aspects of performance. Without a regulation, design and performance choices made by manufacturers and suppliers may not result in sufficient braking capability to guarantee safety and reliability.
Furthermore, our petition focused on automatic braking systems that would only operate in emergencies, and would not interfere with advanced cruise control or other types of systems. That addresses some of the problems Ms. Uvanile-Hesch said she encountered driving her big rig. Automatic braking systems are intended to intervene only when a collision is imminent and to take control of braking only when a driver has failed to apply the brakes or perform any evasive maneuver.
Purchasing a new car or truck involves numerous decisions by the prospective buyer, including cost and safety features. AEB is a crash avoidance technology that will prevent crashes and will result in saving lives and saving money. This important lifesaving technology should be standard equipment on all new trucks and buses and should be required to meet minimum federal performance requirements. It is the responsibility of the federal government to ensure that safety systems on planes, trains, trucks and cars work well and work every time. Less-than-ideal performance of current automatic braking systems actually sounds the alarm on the urgent need for NHTSA to establish uniform safety standards for AEB.
Editor's note: Jacqueline Gillan, president of Advocates for Highway and Auto Safety, has devoted her career to advancing highway, auto, and motor carrier safety. She has held senior positions in government and public-interest organizations.