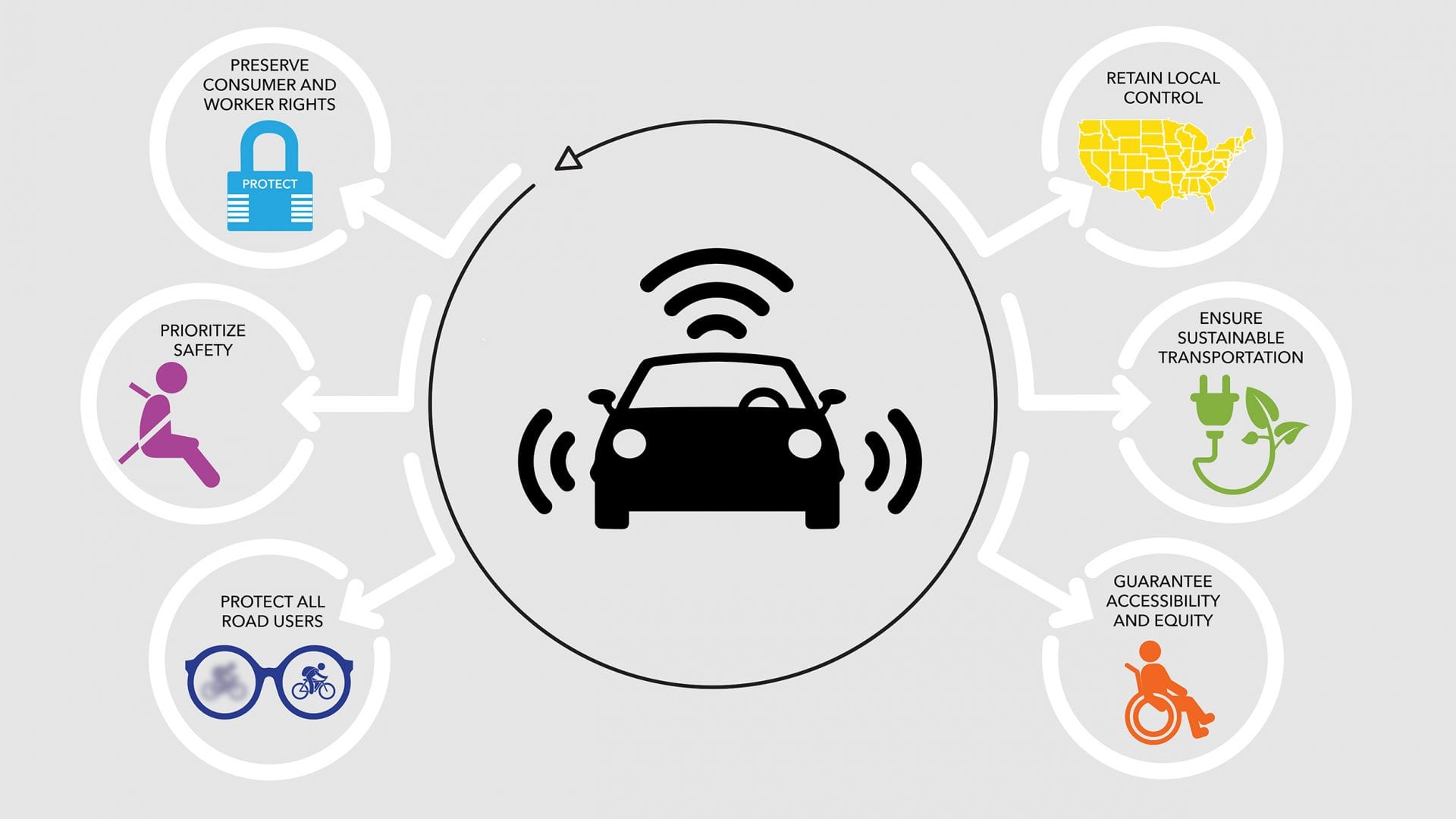 FOR IMMEDIATE RELEASE: MONDAY, November 30, 2020
CONTACT: Pete Daniels, Advocates for Highway and Auto Safety
pdaniels@saferoads.org / 301-442-2249 (C)
Comprehensive Approach to People-First Autonomous Vehicle Policy Supported by Coalition of More Than 55 Groups
Autonomous Vehicle Tenets Prioritize Safety of All Road Users, Guarantee Accessibility and Equity, Preserve Consumer & Workforce Rights, Ensure Local Control & Sustainable Transportation
Today, a distinguished panel representing a broad range of stakeholders jointly released the Autonomous Vehicle (AV) Tenets to guide federal legislation and policy on the development and deployment of AVs.  The Tenets are divided into four main categories: prioritizing the safety of all road users; guaranteeing accessibility for all; preserving consumer and worker rights; and, ensuring local control and sustainable transportation.  The goal of the Tenets is to advance commonsense safeguards and regulations which help this developing technology realize its potential to benefit the public.
The AV Tenets are supported by a growing coalition of more than 55 groups.  They are based on expert analysis, real-world experience and public opinion.  A survey commissioned by Advocates for Highway and Auto Safety (Advocates) in January 2020 found that nearly 70 percent of respondents said they would feel more comfortable about AVs if they knew manufacturers had to meet minimum performance standards before selling them to the public.
Traffic Safety Facts: 
In 2019, more than 36,000 people were killed and millions more were injured on our roadways.   Annually crashes impose a financial toll of over $800 billion in total costs to society and $242 billion in direct economic costs.  This is equivalent to a "crash tax" of $784 on every American every year.
Select quotes from the remarks of today's speakers:
Cathy Chase, President, Advocates for Highway and Auto Safety: "Without question this is a transformative time in road transportation safety.  Lifesaving technologies are evolving and entering the marketplace at a critical time.  However, instead of advancing proven safety technology, a fervor has been whipped up about AVs.  Unsupported claims have added fuel to this fire including statements that the U.S. is behind other countries in AV development and that tens of thousands of exemptions to existing safety requirements are needed to be competitive.  Neither claim is true.  We urge the U.S. Department of Transportation and Congress to use these AV Tenets as their 'GPS' to 'guarantee public safety' for the continuing development and future deployment of AVs."
Dara Baldwin, Director of National Policy, Center for Disability Rights, Inc. (CDR):
"There are a number of imperative things that must be included in the design and implementation of AVs and that work must include all communities, that is equity in transportation planning."
Marco Conner DiAquoi, Deputy Director, Transportation Alternatives: "Nothing from our past or present indicates that the U.S. auto industry will self-regulate to prioritize our safety, the environment or equitable access to transportation.  Starting right now we need robust regulations to always prioritize people and safety over cars, including highly automated vehicles which bring with them significant risk of worsening traffic congestion, environmental harm, job loss and risks to vulnerable road users,"
Jack Gillis, Executive Director, Consumer Federation of America and Author, "The Car Book": "The only way to ensure the safe introduction of AVs is to provide the National Highway Traffic Safety Administration (NHTSA) with desperately needed additional talent and funding.  Not to provide this critically important agency with needed resources is simply regulatory malfeasance. A robust NHTSA is not only critical to the public health of America but will provide manufacturer guidelines that will ensure the success of their autonomous vehicles."
Scott Goldstein, Policy Director, Transportation for America: "Automated vehicles have the potential to decrease transportation emissions—or make them worse.  With thoughtful policy, AVs can serve as an important connection bridging the gaps in public transit and walking and cycling infrastructure.  Alternatively, AVs may increase our emissions and worsen congestion by incentivizing sprawling development, further cementing driving as many Americans' only transportation 'option'.  We need to ensure that AVs do not incentivize spread-out land use patterns and therefore the development of more communities where it is unsafe or inconvenient to take transit, walk, or bike."
Stephen W. Hargarten, MD, MPH, Professor of Emergency Medicine, Affiliate Faculty, Comprehensive Injury Center, Associate Dean Office of Global Health, Medical College of Wisconsin: "Many have touted autonomous vehicles as a potential solution.  I share this hope; however, if AVs are left unfettered, unchecked, and unregulated, this so-called 'cure' could result in even more preventable crashes, injuries and fatalities.  This threat is especially concerning when it comes to vulnerable road users like pedestrians and bicyclists, who lack the protections afforded by a 4,000-pound car."
Sam Loesche, Legislative Representative, International Brotherhood of Teamsters: "These tenets represent an important realization that workers, safety advocates, consumer champions, and those committed to transportation equity all share numerous core values that must be addressed in any autonomous vehicle legislation.  These technologies stand to impact such a wide range of stakeholders that any legislative package which ignores the priorities of one group or key demographic should not be considered as adequate.  Such proposals should be scrapped and taken back to the drawing board."
Ken McLeod, Policy Director, League of American Bicyclists: "We can't wait-and-see on the safety of automated vehicles.  We can't let industry move fast and break things when those things are people's lives.  We can't afford to look back in a decade or two and find that automated vehicles fail to see people biking, strollers, people with dark clothing, or people with dark skin.  With the Tenets release today, we hope that lawmakers and the U.S. Department of Transportation see the opportunity of automated vehicles and recognize that delivering on that opportunity requires action."
Carol Tyson, Government Affairs Liaison, Disability Rights Education & Defense Fund: "DREDF views this moment as an opportunity to reimagine mobility in line with principles of equity, sustainability, community engagement and inclusion.  We call on Congress to uphold the promise of AVs to transform the transportation system for the better and ensure access to mobility and safety for all."
###