Advocates for Highway and Auto Safety (Advocates) sent the message below to Congress on July 28,2021:
Jena Frost (Lyman, ME), Mother of 5-year-old Wyatt Frost: "This November it will be 5 years since Wyatt was killed and my husband and I still think about him every day, and multiple times throughout the day.  We will never stop thinking of the senselessness of that Friday afternoon – that truck driver, that box truck.  Wyatt's crash proves that these vehicles are just as deadly as the larger trucks, and they are moving by the many thousands through our streets and neighborhoods at all times of the day.  We now have the technology to make sure that, if drivers fail to apply brakes when they should, a truck can apply them automatically with 'Automatic Emergency Braking,' or AEB. But the current proposed infrastructure bill doesn't require all trucks to have that safety device."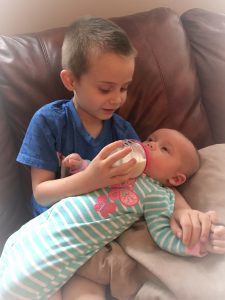 What Jena Asks You To Do: 
Congress must take action now in the infrastructure/transportation bill to prevent crashes, deaths & injuries. 
Require automatic emergency braking (AEB) on all new cars and trucks. AEB can prevent or mitigate crashes caused by speeding, distracted, drunk, drugged, and drowsy driving.
The AEB requirement must:

Include Class 3-6 trucks which are currently omitted in both the Senate bill (S. 2016) and the House bill (H.R. 3684).
Ensure the systems detect and respond to vulnerable road users.
Include a deadline for the final rule and compliance.

Dangerous truck safety rollbacks must be stricken, including provisions to allow "teen truckers" in interstate commerce and exemptions from hours of service (HOS) rules intended to prevent truck driver fatigue.
Jena's is just one of tens of thousands of families who lose loved ones each year in preventable crashes.  Safety improvements must be made to this bill to address known safety threats on our roadways and keep families whole.