FOR IMMEDIATE RELEASE: May 17, 2022
CONTACT: Pete Daniels / pdaniels@saferoads.org / 301-442-2249 (C)
Statement of Cathy Chase, President, Advocates for Highway and Auto Safety (Advocates), on 2021 Crash Fatalities and the Growing Public Health Crisis on U.S. Roadways
Message to the U.S. Department of Transportation, Congress and state legislatures is clear – Act now to save lives and reverse this deadly trend.
The latest fatality estimates released today by the National Highway Traffic Safety Administration (NHTSA) confirm that our nation experienced a horrific spike of motor vehicle crash deaths on our roadways.  Last year, 42,915 people were killed in motor vehicle crashes, a 10.5 percent increase from 2020, and the highest amount since 2005.  Fatalities across a number of categories increased from 2020 to 2021, including pedestrians (+13 percent), crashes involving a large truck (+13 percent), speeding (+five percent) and alcohol-involved crashes (+five percent). Advocates for Highway and Auto Safety (Advocates) agrees with NHTSA Deputy Administrator Dr. Steven Cliff, who is calling this crisis on our roadways "urgent and preventable."  An equally urgent response to advance vehicle and roadway safety upgrades is needed.
U.S. Annual Crash Fatalities (Source: NHTSA)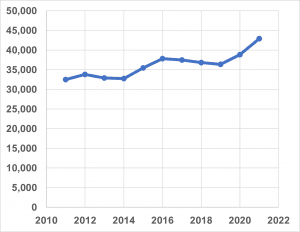 Annual crash fatalities have increased 32% since reaching a low of 32,479 in 2011.
Reckless driving, including speeding, impairment and lack of seat belt use, has been a major factor behind fatality increases that began during the early months of the COVID-19 pandemic. Advocates had strong concerns that these behaviors would continue as traffic volumes increased from peak pandemic lows.  These fears appear to be coming to fruition. The public is justifiably alarmed by these developments as shown in a public opinion survey released this year by Advocates.  Acting swiftly to advance solutions at both the federal and state levels to prevent crashes and save lives is the only acceptable response in the face of such overwhelming evidence and public distress.
Minimum performance standards for advanced driver assistance systems (ADAS) must be a top priority for the U.S. DOT.  This includes requiring proven crash avoidance technologies in all new vehicles such as automatic emergency braking (AEB), lane departure warning (LDW) and blind spot detection (BSD) as required in the Infrastructure Investment and Jobs Act (IIJA, Pub. L. 117-58).  When appropriate, these performance standards should account for the safety of vulnerable road users, including pedestrians and bicyclists.  Advocates also calls on U.S. DOT to advance minimum performance standards for impaired driving prevention technology, which is also Congressionally mandated.  Action on numerous other safety advances including requirements for adaptive beam headlights, improved hood and bumper standards, changes to the New Car Assessment Program (NCAP) and commercial motor vehicle safety upgrades is essential and will make our roadways less deadly for everyone.
Every state has an opportunity to take commonsense steps that will reduce motor vehicle crashes, deaths and injuries.  The 19th annual Roadmap of State Highway Safety Laws released by Advocates in January details the hundreds of lifesaving traffic laws that need to be passed at the state level.  Enacting proven safety laws, setting speed limits that account for the entirety of the roadway environment as opposed to the common practice of focusing on average vehicle speeds, utilizing automated enforcement programs to deter speeding and red-light running, and undertaking safety-focused roadway infrastructure upgrades can and must occur expeditiously.
Advocates extends our deepest condolences to the families, friends and communities of the 42,915 people killed last year.  We continue to urge our Nation's leaders to take immediate action on readily available solutions to stop this anguish and agony.
Advocates for Highway and Auto Safety is an alliance of consumer, medical, public health, law enforcement and safety groups and insurance companies and agents working together to make America's roads safer. Advocates' mission is the adoption of federal and state laws, policies and programs that prevent motor vehicle crashes, save lives, reduce injuries, and contain costs.
###