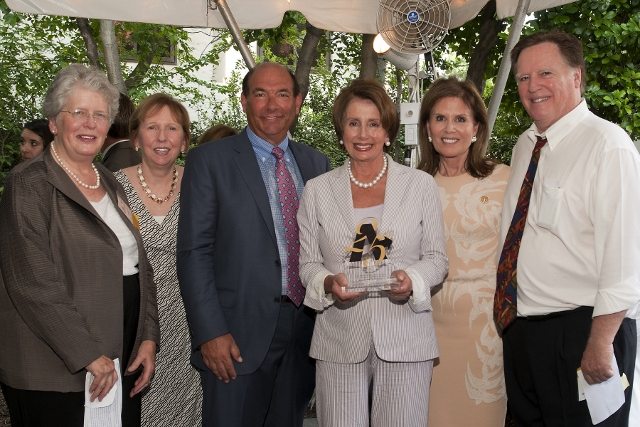 Advocates' Consumer Co-Chair Joan Claybrook, President Jackie Gillan, Insurance Co-Chair Bill Vainisi, Mrs. Bonnie Lautenberg and Advocates' Board Member Andrew McGuire present a Highway Safety Hero Award to House Democratic Leader Nancy Pelosi (D-CA)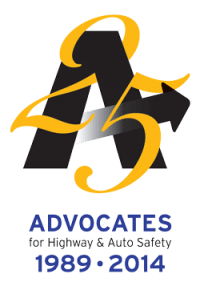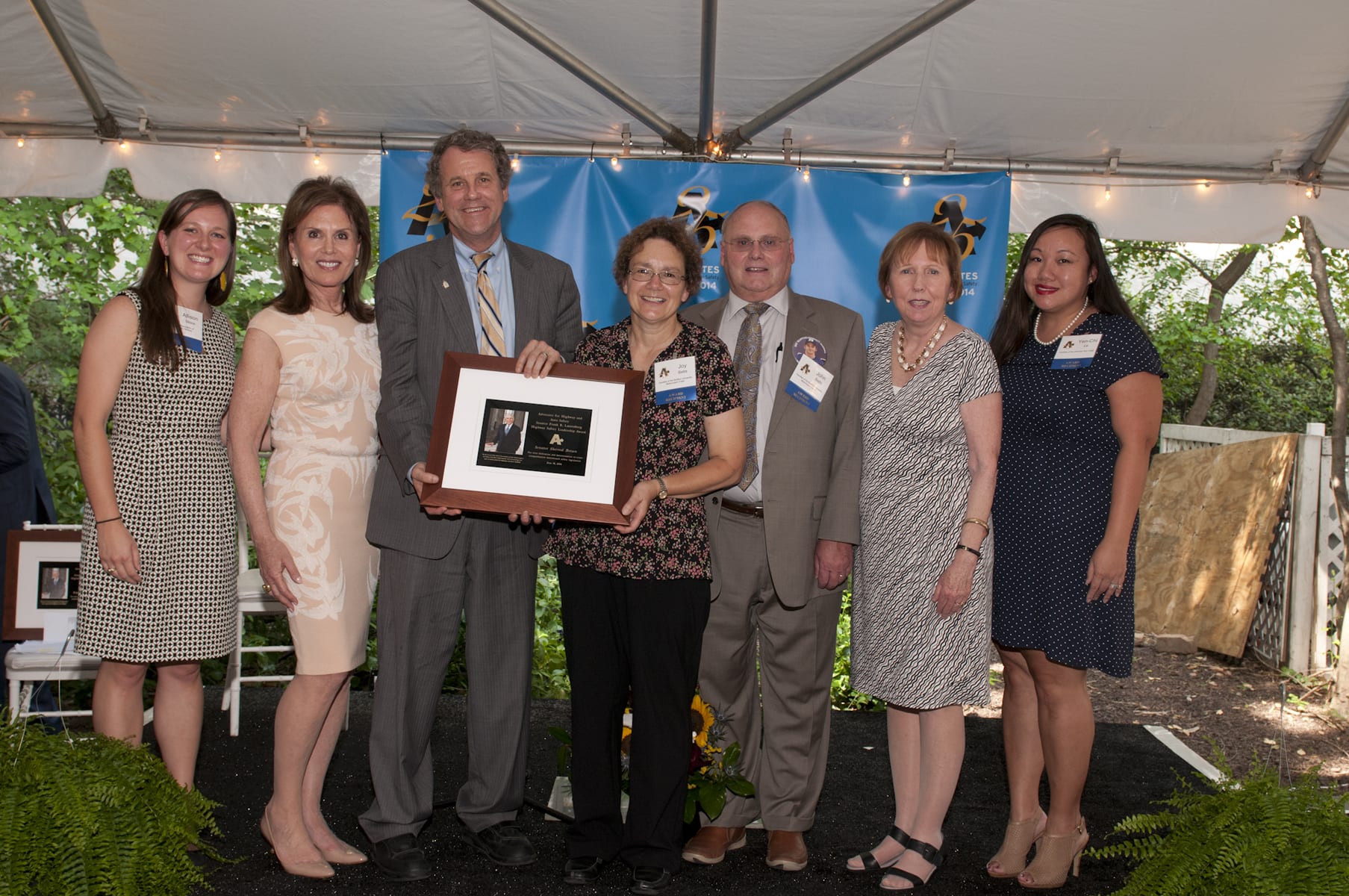 Families affected by motorcoach crashes join Mrs. Bonnie Lautenberg and Advocates' President Jackie Gillan to present the inaugural Senator Frank R. Lautenberg Highway Safety Leadership Award to Senator Sherrod Brown (D-OH)
Advocates for Highway and Auto Safety Releases Report Showing Major Public Health and Economic Benefits of Enacting Highway & Auto Safety Laws
Safety Group Celebrates 25 years of Promoting Life-Saving Laws and Programs Resulting in Safer Vehicles, Safer Drivers and Safer Roads
Announces Creation of Senator Frank R. Lautenberg Highway Safety Leader Award for Congressional Courage in Advancing Safety
June 18, 2014 (WASHINGTON, D.C.) – Advocates for Highway and Auto Safety (Advocates) today released a new report showing that federal and state auto safety laws enacted over the past 25 years have saved at least 131,900 lives and over $2 trillion in economic cost savings. The report, Advocacy for Safe Cars, Safe Driving, and Safe Roadways-25 Years of Saving Lives and Reducing Costs from Traffic Crashes, was commissioned to commemorate the safety group's 25th anniversary. Since 1989, Advocates' unique alliance of consumer, health and safety groups and insurance companies and agents has been highly effective in advancing laws, programs and policies that have made America's roads safer.
"Every time we take stock of the importance to our nation of passing strong, effective laws in the states and in Congress, the economic and public health benefits are overwhelming," said Jacqueline Gillan, president of Advocates. "Advocates' legislative and regulatory action agenda is reaffirmed by this report. Our uncommon partnership of consumers and insurers working together in pursuit of a common goal of preventing motor vehicle deaths and injuries has been successful by any measure."
The report, authored by Dr. Ted Miller at the Pacific Institute for Research and Evaluation (PIRE), reviews a sample of federal and state laws enacted with significant involvement and leadership by Advocates during the past 25 years. The report assessed the impact of the laws on the reduction of highway deaths and injuries and mitigation of crash costs. Among the laws reviewed are adult and child occupant protection statutes, impaired driving laws, prohibitions on the use of cell phones while driving, laws mandating motorcycle helmets, and novice teen graduated driver licensing (GDL) laws.
The report analyzes several critical legislative and regulatory initiatives in the past 25 years that have resulted in life and cost savings. These include passage of federal and state laws directing vehicle safety standards requiring electronic stability control to prevent rollover (over 2,000 lives saved per year), front seat airbags (40,652 fatalities prevented) and safety belt use (29,228 deaths avoided).
In 1989, when Advocates was formed, there were 45,582 traffic fatalities in the U.S., while in 2012 33,561 people died in motor vehicle crashes according to the National Highway Traffic Safety Administration (NHTSA).
"When Advocates was created 25 years ago, it was viewed as an experiment about how to effectively advance safety policies and whether a public interest and insurance industry partnership could be successful and sustaining," said Joan Claybrook, President Emeritus of Public Citizen and Consumer Co-Chair of Advocates' Board of Directors. "The joint forces of these two groups have proven that consumers and insurers can work together and can achieve important gains in curbing this public health epidemic. I am proud to be part of Advocates' history of achievements and see this coalition as a blueprint for tackling future safety challenges in Congress and state legislatures."
The cost savings resulting from the passage of highway safety laws is stunning according to the findings in the report, with government savings amounting to $100 billion. Dr. Miller also concludes that absent action by Advocates and its partners, costs associated from crashes would have topped $650 billion in 2013 alone.
Bill Vainisi, Senior Vice President and Deputy General Counsel of Allstate Insurance Company and Insurance Co-Chair of Advocates' Board of Directors said, "Prevention is key to saving lives and saving money for consumers. In addition to averting tragic fatalities and injuries, Advocates' work has helped to reduce crash costs, and American families are the ultimate winners. Insurance companies are proud to be a part of this unique and effective organization. Bringing together such a diverse group to fight for safer vehicles, safer drivers and safer roads has resulted in safety victories that simply could not have been achieved by either group working alone."
At a reception celebrating Advocates' 25th Anniversary today on Capitol Hill, Advocates will announce the creation of a new biennial award, the Senator Frank R. Lautenberg Highway Safety Leadership Award, to honor the former New Jersey Senator's legislative legacy in advancing highway safety laws. Mrs. Bonnie Lautenberg will present the inaugural award to the four Congressional champions of the Motorcoach Enhanced Safety Act, provisions of which were enacted in the Moving Ahead for Progress in the 21st Century Act (MAP-21), Pub. L. 112-141(2012). These Members are Senator Sherrod Brown (D-OH), former Senator Kay Bailey Hutchison (R-TX), Representative John Lewis (D-GA) and Representative Ted Poe (R-TX). Mrs. Lautenberg noted, "Throughout his career in public service, Frank was passionate about improving public safety on our nation's roads whether it was fighting drunk driving, or preventing the spread of bigger, more dangerous trucks, or securing funding for highway safety programs. The Democratic and Republican recipients of the award named in his honor exhibited the same two traits Frank had in every safety battle he took on – dedication and determination. Our family is honored to have such an award commissioned to celebrate Frank's many traffic safety and lifesaving contributions."
Additionally, Advocates will present "Highway Safety Hero" awards to other Members of Congress, federal and state leaders and citizen activists who have advanced safety initiatives as well as American Honda Company for their work in advancing pedestrian safety.